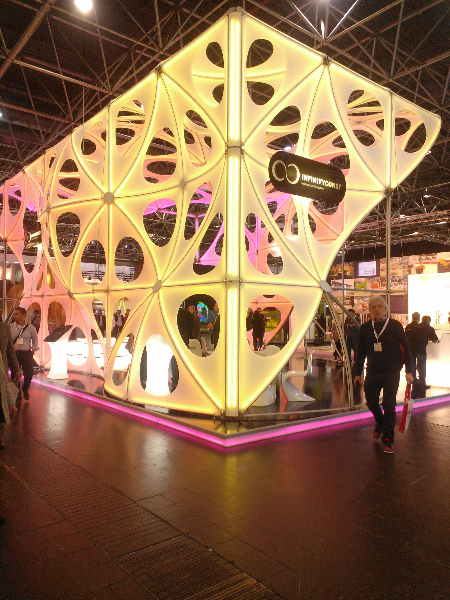 One great way to discover new ideas for your exhibit is to visit a trade show outside your industry. Or even go outside your own country, which is exactly what Mel White and Katina Rigall from Classic Exhibits (our sponsor) did last month. Here's an excerpt from their blog about the trends they saw at EuroShop in Germany.
Concrete. Yes, concrete. Not real concrete but the texture was everywhere. Faux finishes on wood, tension fabric, wall paper, and even flooring. I didn't notice it at first, but once someone pointed it out I couldn't not see it.
Natural Wood. Again, everywhere, mostly as accent or design elements. Even raw logs as table legs and chairs. You'll see it repeatedly as you scroll through the four days of photos we posted from Euroshop.
Facets. No matter where you turned, odd, non-90 degree angles dominated. Again, some of it was clever design elements, but other times the angles were a distinctive window into the exhibit, either from the aisle or from within the display. Again, the photos illustrate this trend again and again and again.
LED. Nearly 100 percent of the lighting solutions were LED. You'd have to be wearing a blindfold not to get the message. Plus, the fixture designs are finally beginning to align with the lights so they don't look as industrial.
iPads and Tablets. Europeans have not embraced tablets and iPads in the booths as readily as we have. They were there but often counter-mounted at the back of the booth. There were some stands (nearly all white). All basic. Our iPad stands (Classic Exhibits) were better designed, both aesthetically and functionally.
Raised Floors. This isn't a new trend. It's distinctive to European trade shows. Nearly every booth has a raised floor, and there are no carpeted aisles (thank goodness). But, from talking to the flooring vendors and to some of my North American colleagues, raised flooring is on the upswing. It's gotten much easier to assemble and the finish options are expansive. It still won't be for everyone, but don't be surprised if you see more islands with raised floors over the next 2-4 years. Oh yes, padding is unheard of . . . but you get used to that.
SEG and Lightboxes. Everywhere. Effective. And commonplace. To some degree, they've become essential in the same way that portable literature stands are essential for most exhibitors.
To see photos and other details from EuroShop, visit Classic's Trade Show Tales blog.
Stop wasting money on displays that aren't effective!
Inside this guide, you'll discover how to avoid the most common – and not always obvious – mistakes in exhibit design. Create a multisensory experience that exceeds expectations and connects with attendees.
Save
Save
Save
Save
Save
Save
Save
Save